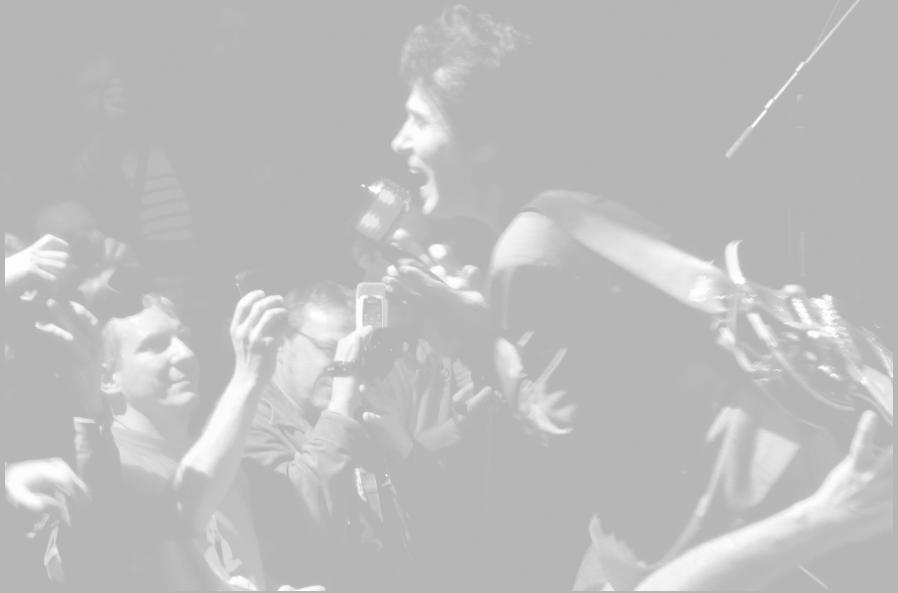 In concert the anthem "Gentleman In Black" takes on a life of its own and shoots off on strangely unexpected tangents, as if the song has its own consciousness and takes the musicians along with it for the ride. And it is a wildly unpredictable ride that careens and twists and turns itself inside out, then lingers suspended on a cosmic rift, and then re-forms and re-launches onward and outward, as if the song could go on forever.

There is Tav Falco, himself: the artist, enigmatic and alchemical. Blazing nonstop in 'the zone' — in that mysterious dimension that only musicians go to, his 1963 Höfner guitar magically staying de-tuned throughout and with its onboard, factory fuzz tone wailing.
There are many opportunities within these pages to get carried away in such rhapsodic reveries over these shows where the photographer accompanied the band as Tav's tango partner. Ever ready to freeze an instant in time with her camera from quiet interludes to those seen peering through the still eye of a storm.
Onstage, backstage, on the road and on the street, these are fleeting moments — a passage through time and witness to each musician and singer in action and in repose. Not only what each photo portrays, but what the pictures collectively suggest, is the notion that Tav Falco and Panther Burns — like their shows, like "Gentlemen and Black" — could go on forever.
- Gina Lee 2017 Vienna
Photographed under the spell of Ghosts Along The Mississippi by Clarence John Laughlin, I worked from the inside out in creating this book of pictures. That means I started in the middle of doing something about which I knew nothing. Essentially I learned by doing rather than flogging formal study of a craft, and then applying expertise from the outside to what was stirring around within. Actually that is my mission - to stir up the dark waters of the unconscious. In order to achieve a peripatetic looseness, I found a 35mm Schneider/Kreuznach lens that I had seen lavished so brilliantly upon subjects captured by Henri-Cartier Bresson and by William Eggleston. The small parallax camera permitted the required agility of movement, yet sacrificed lushness of tones rendered by the encumbered pictorialist camera of Laughlin.
To descend into the Orphic vision I created a persona - as I have done with all that I do, whether in song, in print, or on film. It is one song that I sing over and over. To connect that persona with the surface of the images captured here, I connected persona with icons. Whether overtly or discreetly evoked, these iconic images resonate with the undercurrent of sentiment, of betrayal, of lost causes in which my pictures are soaked. In my hands the camera is hardly an objective instrument.
No body cares what the camera sees. All people really want to see is what the secret eye of the persona sees. Objective photography is like music without soul. Music is a harmonic/disharmonic abstraction of emotion. The icons scattered by the roadside in Arkansas, Louisiana, Mississippi, and Tennessee are more than indexed/nuanced signs and meanings, they are infused with emotion and as such are living, breathing images. America is a sad country. My pictures are sad. Often forlorn, amusement or a clement epiphany has just evaded the film frame an instant before the shutter was released. The pictures are perhaps more about what I do not aim my camera at. I am looking at you, but I do not see you because I see more than I want to see. I photograph what is not there. The captions I have written for each photograph are not an evasion, nor an explanation, nor an apology. The captions are an intertext drawn from the purview of my persona. Still you can create your own captions, because once you turn the page and behold an image, it is no longer mine. - Tav Falco 2015 Paris